Our Initial 30 Perpetual Admission Passes sold out in seventeen minutes at .15 Ξ per pass.
Passes were minted on our custom smart contract. Find it or Track the ARCADIA Token on etherscan.
Our Emporium is now open for the hottest branded merchandise in the imaginary theme park space.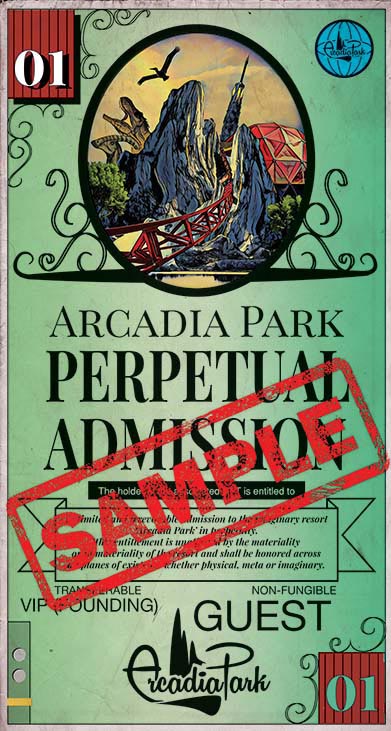 If you missed out we will soon be releasing a further 270 E-Ticket Passes for a lower price. Arcadia Park is for everybody.

You can also find Perpetual Admission Passes on the secondary market.
Each pass is unique, numbered and comes in one of six colors. Passes were distributed in the order that they were minted.If you are a Passholder, please use collabland to recieve your Passholder role in the discord. From there you can request your souvenir on-ride photograph, mix with passholders and access perks and rewards. As all passes were sold, the official Arcadia Park Soundtrack album has been released into the public domain and is available to download here. NFT metadata is stored on IPFS.
Passes do not grant access to the tunnels.